Caring for your Body Type
Ayurveda sees everything in the universe, including human beings, as composed of five basic elements (or Panchamahabhutas): space, air, fire, water and earth.
These five elements in turn combine with each other to give rise to three bio-physical forces (or Doshas) within the human body- Vata (air and space), Pitta (fire and water) and Kapha (water and earth). Together they are known as Tridosha and govern all the biological, physiological and psychological functions of the mind and body, both, physical and emotional, as well as effecting how an individual interacts with everything around them.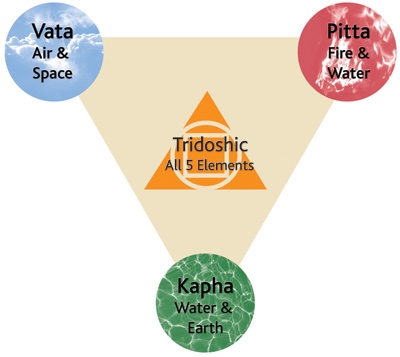 Every individual has within them all three bio-physical forces, but it is the dominance of any one or two or all three that makes up a person's individual constitution or Prakriti.
Although a person's Dosha type is determined at the moment of conception, Doshas are constantly shifting within the body. Just as the five basic elements fluctuate within the nature, these elements will also fluctuate within the body. Therefore the Dosha dominance changes with age, time of day or night and the season etc.
Ayurveda seeks to treat the mind and body according to a person's Dosha using a system combining diet, herbal remedies, detoxification, Yoga, Ayurvedic massage, lifestyle routine and behaviours which stimulate positive emotions.